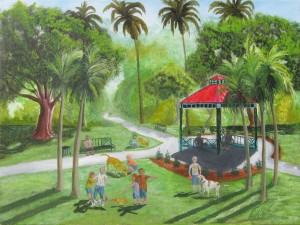 Remember me? I'm the guy who does all these paintings. Doesn't ring a bell? I'm also the guy with the corny jokes, loud shirts, and unhealthy interest in piracy. Ah that rang a bell didn't it?
Yes it's been 5 months since I have posted on this blog. There are more than a few reasons for this, but the main one it that I had not painted much during that span. Not that I was losing interest in the hobby; far from it. Painting is still my favorite indoor hobby. There were multiple time consumers that were keeping me from the canvas. The biggest one was that I moved 420 miles north from Long Beach. I packed up the goods and drove a u-haul truck myself to my new residence. I am currently residing in Fair Oaks California which is about 15 miles east of downtown Sacramento. In addition to all that moving jazz, I was taking some web programming courses that were me keeping occupied for most nights. Long story short, I just had nothing to talk about in the art world. But I am back and with a new painting none the less.
In my last post I mentioned that I was working on a painting to celebrate a park that I enjoyed taking my dog to visit on most evenings. The park was down the street from where we lived in Long Beach and is called Rose Park. This painting is my tribute to my 9 years spent in Long Beach. Many paintings I choose to do have a special meaning to me that most people will not get, but that's understandable as I think painting is a graphic diary of sorts. This painting simply takes me back to the days of living near the ocean, going to college at Long Beach State, meeting my wife, making many friends, and finally getting a sneaky little dog. To everyone else, they will see an outdoor scene filled with folks and their dogs – and I am happy with that.
This work depicts some of our neighbors that we talked to frequently in Rose Park. It's funny but we never really knew any neighbors in Long Beach until we got a dog. I'm told the best way to meet neighbors is to get a dog or have a baby – well the dog route certainly worked out. The dog on the far right is named 'Boo' and he was one of the friendliest dogs we ever met. He was part hound dog so his nose was always in the grass when it wasn't chasing a Frisbee. The dog in the back was named 'Forest' and he was as fast as lightning. The dog in the middle-ground was named 'Bella' and she usually played with Boo since they were big dogs in a small-dog park. The two dogs in the foreground are 'Cooper' and 'Bonny'. Bonny is our dog, a dachshund and beagle mix. Cooper was Bonny's boyfriend of sorts as they were always seen playing together. Cooper is a Corgi Beagle mix so you can understand the attraction. There were others that we saw from time to time but these were the dogs you could count on most days being in Rose Park at 5:30pm. It was a community that was forged by the paws of love.
You might be wondering where in Long Beach you can find that kind of lush vegetation. Well the truth is that I took some artistic license here. The park is in the middle of a residential area of downtown Long Beach, but I didn't want to depict houses in this scene or parked cars or road signs. I wanted to take the fast-forward nature of the big city out and focus on a quiet and intimate place where people could come together and enjoy themselves. I want the viewers to see the scene and feel the relaxed nature of it all. So the depth of the vegetation is a gross exaggeration, but the variety is not. In this 1/2 acre park you will find rose bushes, palm trees, elm trees, and other small nondescript trees. In the concrete jungle it's possibly the greenest patch in all of Long Beach.
As always, this painting will be available as a canvas and paper print. Let me know if you have any questions. I promise that new works are coming very soon. I have many ideas in my head, but I must also disclose that my focus right now is getting a job around my new home. So if you need a J2EE developer then give me a call. If you have no idea what J2EE means then I won't wait up for that call. At any rate, see you next post.
P.S. – It will not be another 5 months.