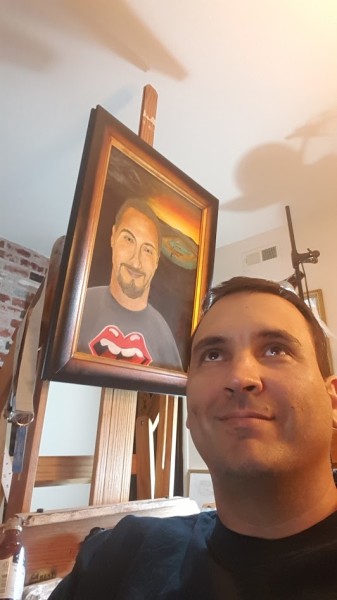 It's been an emotional month since my last blog post. Of course if you read that post then you know that I was planning on the Goonies painting as my next big project. Well it is (now), after having completed the portrait "Mr. Shane Herrenschmidt." If you haven't kept up with my Facebook fan page or seen episode 26 on my YouTube channel, then right now your wondering,
"what happened to those original plans?"
Life….life happened.
We can all sit around and plan out our lives down to the minute detail, but we all know that in reality the world we live in is filled with millions of variables that flow in and out of reality to create a random and often frustrating life for us. Our job is to handle those obstacles to the best of our ability without losing ourselves in anger, sorrow, or madness. So while I was painting the Goonies one night, I found out that an old friend was approaching heaven's doors.
A close family friend for over 30 years, my brother's best friend, and wonderful friend to so many people, Shane was about to say goodbye to a world that put him through more tribulations than any other person I have ever met. Diagnosed with cancer over 10 years ago, Shane was put through countless chemo sessions, tried multiple trial drugs, and saw an assortment of doctors to try and fight of Sarcoma. He had good reasons to fight hard, he had a son, brothers, sister, parents, and countless friends investing their hearts in him and his recovery. Alas, in the end the good Lord upstairs decided it was his time and he became pain free on October 30th. Upon his passing, I felt the overwhelming urge to pay tribute to him in the best manner I know – painting.
I wanted to present the portrait to his mother at the wake which was only 6 days away. So I grabbed a photo from Facebook, sketched out the composition, and started jamming on the canvas. It took 3 days of painting, a day of drying, and framing to make the portrait come together. I was pleased with the work considering I didn't have much time and anyone who knows me knows that I work slow on the canvas. I tend to get bogged down in details which slows my production. However, there was no room for piddling about on this one. The objective was to get it right the first time. I felt I did and the final seal of approval would be the presentation to his mother.
Her thoughts? I'm not sure, but judging by the long hug and the tears that ran down her face, I would say I was successful in my interpretation of her son. Indeed, she was so moved and surprised, I didn't tell her I would be painting him, that she was shaking as she hugged me. It caught me off guard – that incredible reaction – and I felt it difficult not to tear up as well. The first thoughts in my head after that embrace,
"THAT is the power of art."
I have always believed once a painting leaves the easel, so does a small part of the soul of the artist. Because he was a longtime friend who went too young (36), it was an emotional set of painting sessions for me. When I presented the portrait, I felt like I had presented her with a framed part of myself with my memories, my brother's memories, and my family's memories. So perhaps all of us are now a part of this painting. In the video, I mention that the painting is like a reflection of the impact Shane had on myself and my family. So I think because of that, a small part of his spirit is now encased in that painting as well. Materialism isn't a good character trait, but in this case, the object is made from the memories and love of a friend. Objects like that are truly of value. With any luck, this painting will live on through his family and be handed down over the years so the courageous fight of Shane Herrenschmidt is not forgotten.
The paint went on….the sweat gathered….and the tears followed. That is the power of art.