That Was a Bold Show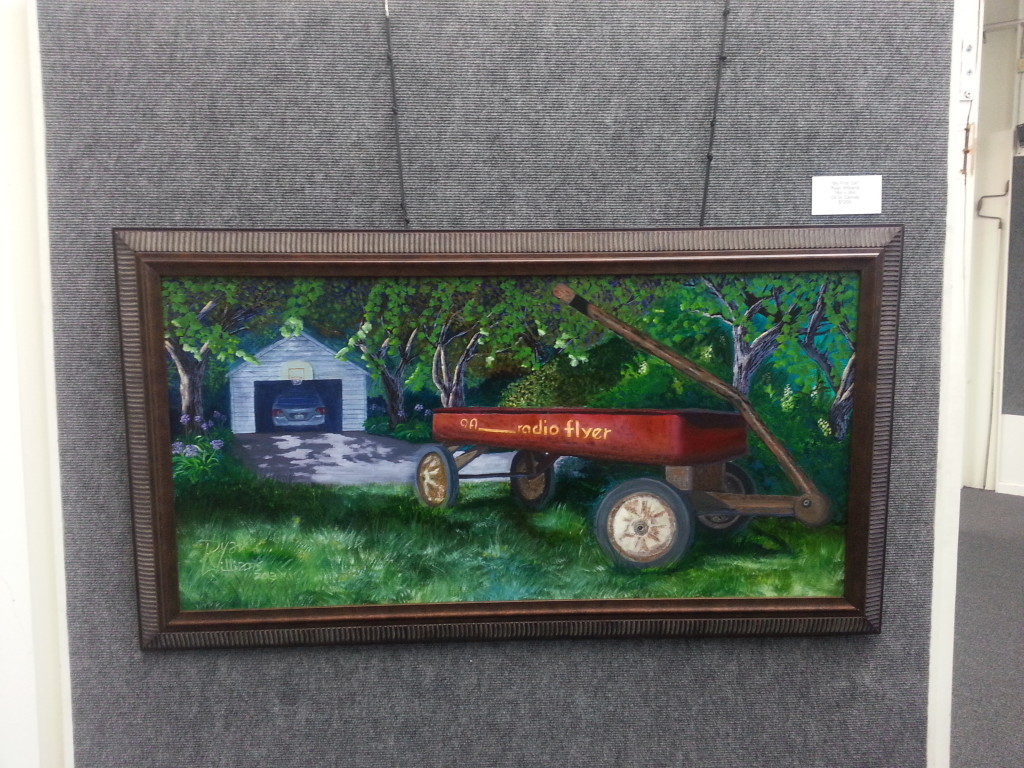 Before this past Saturday, any art show or gallery I had ever attended was a chance for me to examine the approach of other artists and appreciate their style and creativity. The Bold Expressions art show, however, was more like a fancy show-and-tell exhibit. Finding myself looking to see the reactions of people who would look at my painting, I wanted to see if they smiled, frowned, or laughed – anything to get a reaction. The experience was pleasantly tense in that I really wanted to entertain people with my work, but was prepared for the indifference that I saw from a lot of people. Now this is not to say there weren't many people stopping to look at the painting, to the contrary, there were a fair amount of people standing and leaning in to get a closeup of the art. I just found that I was more focused on the people who just walked by without considering what they glanced at and trying to figure out why my painting didn't get their attention for at least 8 seconds. Oh I read that 8 seconds is the average time someone looks at a painting so that is now my benchmark.
I know color has a lot to do with garnering attention. After that I believe the subject is what keeps them engaged. Beyond the subject, the viewer has to be able to relate to something in the piece. I guess these people didn't like green, they never had a wagon, and they never saw themselves pulling that wagon ever in their lives. OK, so some things you can't control and you will simply never please nor appeal to everyone. Yeah I already knew this, but I really want to make my art as engaging as possible to the widest audience possible. I will keep pushing to entice more people to simply "look."
The most interesting response I think I observed were two older gentlemen who didn't like my painting. I overheard them saying they didn't like the prospective and the layout just didn't work for them. I stood behind them to eavesdrop and never revealed myself to them. I wasn't disappointed nor angry. Actually I was quite happy because they actually looked at my painting for over a minute to critique it. I got the reaction I was looking for, sure it wasn't positive, but I got their attention for well over those 8 seconds I am aiming for. They won't buy the painting, but I'm not giving back that 1 minute of life they spent on one of my ideas either. Muhahaha…..victory is mine!
The show was great as there were plenty of people milling about – at the time I was there, about an hour, I would estimate about 60 people drifted from one piece to another. Live music filled the air as they served Wine and snack foods. There were plenty of conversations in every corner about art and the artists involved. The whole environment was a garden of creativity and appreciation. I can say for certain that I am hooked on this whole art show thing and I am already looking to get into another show somewhere in the country. I'll keep you informed when I find a new place to hang my paintings!
A Giant Creation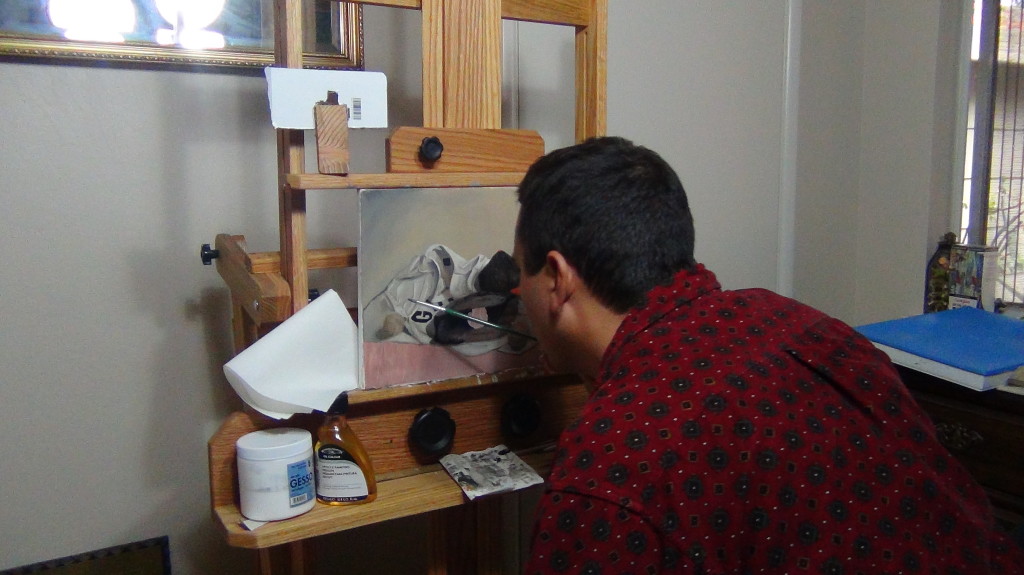 By now you have probably seen my latest painting, "The Giant Sleeps Tonight." The still life of my favorite baseball team has received very positive reviews from family, friends, and other artists online. If you are a Giants fan or just a baseball fan, then I hope I have done the topic justice with my attempt at representing passion and drive through this small still-life painting. Check out my video for this piece as I discuss what my thoughts were when I painted it. I hope to enter this painting in a show or two as soon as it's available for submission – it needs a couple of months to completely dry of course.
Happy Birthday to My Website!
That's right – my website turned 3 this week! So to celebrate I decided to redesign the place to make it just a wee-bit easier to navigate. Well let's face it – the previous design sucked. As I age, I learn what works and doesn't work and I hope you like the new look and find it easier to make a purchase or watch a video etc. Speaking of making a purchase, the fine people at fineArtAmerica.com are now handling the reproductions of my work. You can now purchase an original painting or print with matting and or frame if you choose. There are also options to purchase a copy on metal, acrylic, and even an iPhone case! Please checkout my store on their site for more information.
Well it has been a busy month for me art-wise so I need a little break. Oh wait, I can't stop! I have works to complete by the end of the year! Yikes I better get going! I have three more paintings that must be completed before year's end. I am trying to meet my goal of completing 6 paintings this year so I better move my brush if I want to make it. Paint ya later!
baseball paintings giants paintings san francisco giants paintings san francisco giants art