Spring is finally here! From an artistic perspective, there is no better time to observe the plethora of colors that nature paints than in the spring. Nature is the original artist as she paints everything from the pedals of a rose, to the sheen of the ocean. My latest painting is celebrating the colors of spring and I hope to do nature justice by it.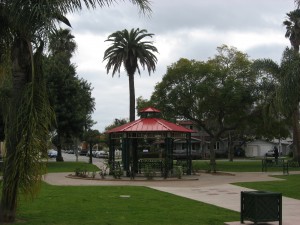 Something that I do about everyday is go for a walk – I walk my dog. One of the places I routinely visit on my walks is a little park called Rose Park. It's a park in the middle of a round-a-bout in Long Beach. It has become a favorite places for kids to hangout after school, residents to sit and relax, and for dog-owners to bring their pet to run around in. On more than one occasion, I have observed more than a dozen people running around this little park. I started to think about what a scene like this might look like in a painting. Then I morphed my thoughts into a spring themed idea. Because the park is named for its rose bushes, why not turn this into a celebration of the spring season? With camera in hand, I have been snapping reference material to work from as I create this project. One executive decision I have made is that I will not be representing the houses in the background of the park. I wanted to take the stress of everyday life out of this scene and putting the actual neighborhood in the background would certainly remind people that this is but a small oasis from an otherwise hectic life in southern California. So the painting will focus on nature and will include some residents walking through the park, sitting and chatting, and walking their dogs. As the viewer, you will not even be aware that this park is in a major city. The final scene will look as though it's in the middle of the country.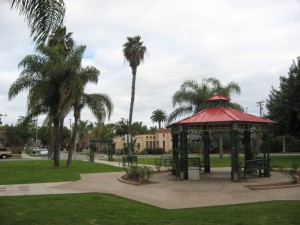 Because this is painted during the spring time, expect to see many shades of green, red, and yellow. I will not be dragging this project out over weeks. In fact I intend on completing this by next week. As I write this, I am already a third of the way complete with the painting. Every now and then I find a quick painting is a great way to flush the imagination with new ideas. Its funny how ideas and come into your head. My idea for painting Rose Park didn't even come to me while walking my dog, but rather while I was in bed trying to sleep. You just never know when inspiration will hit. In this case, inspiration hit during insomnia. Well enjoy the spring and let's welcome better weather as well – not to mention baseball season! Go Giants!