We now interrupt your internet surfing to bring you an educational artistic moment that delves into the theme of color groups. What are color groups? Hey that's a great question. Now please hold on for a few seconds as we build up the suspense.
Wait for it.
Wait for it.
Okay.
Color groups are…..(drum roll)….. groups of color! BWAH HAHA HA!…..NO WAIT!!! COMEBACK!
Okay I'll elaborate on that. An effective technique for learning how to see color is to break up a subject by it's local color groups. Say for example you are painting a still life that features a red hat sitting on a blue sheet with a single light source. What I would do is identify the primary local colors of the entire composition. In this case, we have red and blue. The red hat can then be broken down into dark shades and light tones using the appropriate mixtures of light colors white or yellow, and dark shades like black or green (to neutralize the intensity of the red). Once the shades of red are mixed, I would next move on to the shades of blue for the sheet and so forth. This is really a process to breakdown a complex array of colors into a more manageable system. I guess you could say this is the painter's version of how to eat an elephant; which is: one bite at a time.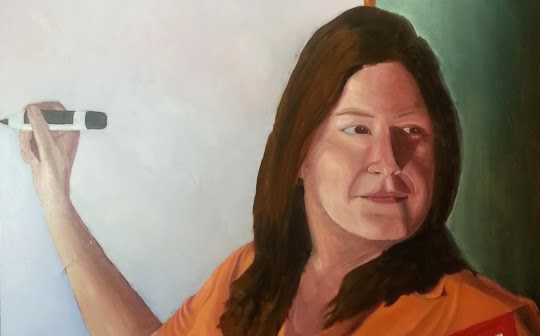 In the current portrait, I have identified seven color groups so far; and boy are my bristles tired (dah-dum chhhhh). This is a lot of preparation of course, but its really necessary. Imagine taking the time to manage the proportions of the face to a point where you were finally ready to paint. Then you lay in the wrong colors and 'POOF', you have a flat rendering and poor portrait.
So the lesson for today is preparation. Take the time to mix the colors before you apply them and save yourself perhaps hours of frustration down the line.
We now return you to your "productive" web-surfing.