A New Video Show
Well here we are in another year. Is it really 2014? To tell you the truth, this age we all live in doesn't really feel like the future we were promised 20 years ago. I mean where are the robots who patrol the streets and fight crime? Where are the holographic phone calls to interact with static-filled faces at? What happened to the flying cars we were told about? This is the future? Really? Meh – what a let down. Well at least we still have art in our lives. Then again, we don't really seem to hear enough art-related news unless we go looking for it and you know, I have found a few good art-related news stories recently. These stories generally don't make big headlines unless a classical master's name is thrown around like Da Vinci or Rembrandt. The truth is there are some really great stories out there about new art being created, big works being sold at auction by crazed collectors, and weird off-beats artists whose work raises a lot of eyebrows. We have plenty of movie critics to inform us on the latest multimillion-dollar flop. We have a plethora of music critics who dissect the latest pop-hits and the fashion faux pas made by the singers on stage. So what about the folks who discuss the art world? You see a news story now and then, but those stories seldom dive deeper to analyze the artist, the work, and the effect on the public. We hardly hear the opinions or subjective perspectives. Why is that? Art is a part of culture – a BIG part. Is society too lazy to analyze anymore? Are we as a people simply content with journalistic fluff? I think we need some more critical analysis in this day and age.
Being that this is the start of a new year and "change" is the theme of the time, I think I'd like to try my hand at a little art news and review. Now I'm already busy with this blog so I'd prefer not to reinvent the wheel, but I'd still like to contribute from time to time some opinions and critiques on works of art and artists. Perhaps a new video series on my youTube page? Sure, I have no formal education in journalism nor investigative abilities, but it hasn't stopped the newspaper or magazine writers either. Okay then, look for a new series coming soon to my channel. I don't have a title yet for the show, but something will come to me during my next stint on the porcelain throne.
Productive Year and Nothing to Fear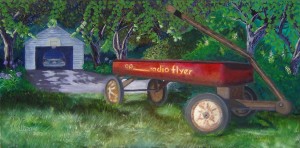 It was a heck of a year for my art. The highlight was, of course, being accepted into an art show for the first time. As an artist, you want to be reassured from time to time, by those who know you not, that your work offers an emotional response. Getting into an art show, an international one at that, is one of the best assurances to yourself that your art is working on some level. It was a great feeling to see people walk by and smile at my work in the Sacramento Fine Arts Center and that newly-found excitement drove me to complete 7 paintings this year. What that art show also did for me was give me a little more courage to branch out and evolve my painting style. I'm no longer afraid to leave my comfort zone as an artist. I want to experiment with brighter colors, deeper compositions, and larger subjects. I believe that in order to become a solid artist you must not only learn the technical skills, but master your own mental shortcomings. You must learn to control your brush strokes and your apprehension for failure. Wow, this almost sounds like a Yoda teaching technique for Jedi doesn't it? "Control, control, you must learn control!"
The Year of the Portrait


I am setting my sights on the face. The portrait is perhaps the biggest challenge for an artist. In landscapes, the trees and mountains don't have to be perfect for a viewer to recognize the location. In still-life the object doesn't require a photographic touch to convey what the object is. The average viewer will interpret the item for what it is based on color and general shape. A portrait, on the other hand, is a real challenge. Why is drawing and painting a face such a challenge? Because you can paint two eyes and a nose and a mouth, but if the proportions are off then the viewers will not recognize the person in the painting. At best they might say, "oh I see, it's so and so…I guess." At worst they might say, "Who is this again?" Proportions are critical and require some extra care in order to get the measurements just right. I want to sharpen my portrait skills; I want to paint in-your-face-portraits. This is a primary goal for my art in 2014. The first painting I will be tackling this year is a portrait of my wife as she teaches in the class room. Yeah, I have chosen a tough subject because if it's off then she will certainly let me know and I'd really like to hang this up in the house someday. A happy life is a happy wife – so I better do this painting right.
Best of the year? More Shows?
My favorite work this year? That would have to be "The Giant Sleeps Tonight." I was so happy with the composition, the color, and the rendering of light on the subject. This work was important to me because it reflects one of my passions in life: baseball. More than that though, it represents the drive to succeed and the hard work that is required. To earn something of value means to experience satisfaction that is almost as great as the achievement itself. Work hard and play hard. This painting means all of these ideas to me and I felt that I nailed this one.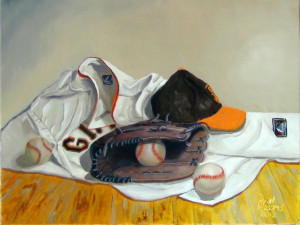 I'm hoping to get into another art show this year. There are a lot of shows across the country and I just need to find one that fits my work. Art shows are a great way to get your name out and create some interest in your work. If the art sells at the show then it's frosting on the old ego cake. Ego boosts are good so my eyes and ears will be open for new opportunities.
Final Thought and Gratitude
If you learn something new then your day was a success. I have learned a lot about my style, but more than that I have learned more about myself. Painting is a therapeutic and psychological self-examination. What I have learned about myself is that I am indeed weird, but gentle too. My art is reflecting the state of my mood and outlook on life at the time of creation. The brighter colors signal my optimism, while darker colors mean that I need to by more brighter colors I guess; eh I digress.
I would like to thank the subscribers of this blog, the subscribers on my youTube channel, the subscribers on my Facebook page, and the folks who bought copies of my work in 2013. Thank you all for supporting my silly little imagination. I hope to continue to entertain you folks for many years with my art. I value your time and I truly am in awe when you spend a few moments looking at my latest creation. Thank you from the bottom of my heart.
Here is to the new year……let's paint the $&@! out of it!