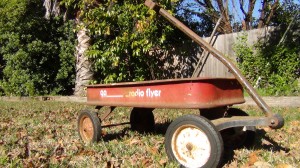 Well paint my wagon red – this studio easel is a real gem. It has been so easy and convenient to raise and lower the easel at will to accommodate my posture. Combined with my mahl stick, I find it easier to perform detailed work on my paintings. If you're a serious artist then I suggest getting a studio easel for all of your creative needs – that's all for the plugs.
The New project is due for release towards the start of April. If you have already seen the videos then you know what I am painting – an old Radio Flyer wagon – yeah I thought it was time for another still-life. Although in this case the still-life is being combined with a bit of landscape work.
So why an old child's toy? Well this idea has been in my head for about a year. I was thinking about my childhood wagon and it was just rusting in a shed so why not immortalize it? I may restore it someday to let my unborn kids play with it, but if I can't then this is the next best thing. I mean I'm really not all that great with tools anyways. Now I could paint it as a new wagon, but I really think wear and tear adds to the character of the any object – heck it adds to the character of anything.
This project has been a real test of hand-eye control. While I don't need hyper-realism here, I really want the viewer to see and feel what I see and feel about this wagon. So in order to get the correct look and feel, I find myself using my old mahl stick to steady my hand throughout the process. The background was loose, but once I hit the wagon the progress slowed down. It simply requires a lot of attention to detail and a quick hand would fail to realize. Important subjects tend to take more time as they have a personal connection with me and this wagon is another symbol of a happy childhood that my Brother and I enjoyed so I want to share those good memories with the viewers. Patience and a steady hand are what's called for here.
In my next post I should be finished with the wagon and talking about the final results. In addition to that I will be discussing my next project. This has been a busy month for me. At work I have been swamped with paperwork. I still need to do my taxes. Oh and most importantly….baseball is back! So yes I am playing on Sundays again! I love the springtime. I hope you can get outside and enjoy the warm sun wherever you are too. And now I am stepping outside for some spring air……