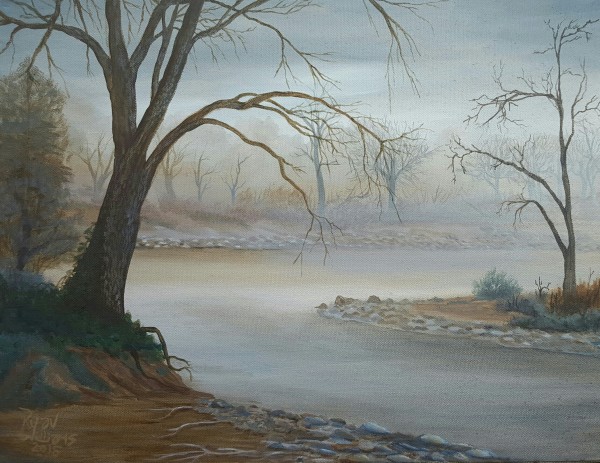 My most recent project, Fog River, had been in my head since last winter. Of all the seasons, I firmly beleive winter holds the greatest mystery. The windy nights, cloudy days, and foggy mornings seem to all hold back a secret. Fog River was painted with the intention of capturing that mystery. A lot of people hold winter to represent death in the cycle of life while spring is the rebirth. I'm not sure I hold the same viewpoint. With all of the active weather we see in winter, wind and rain etc., I equate that activity to the rapid development of a new life in the womb. I think the actual 'death' symbolically takes place on the last day of autumn. I mean really – when you're dead you're dead. Do we really think winter is about dying over and over again? No way. Winter is Mother Nature's way of saying, "I'm expecting again."
I guess I have a different perspective on the seasons and the cycle of life especially since I just had my first child this summer. It was a challenge to complete a painting while tending to a newborn. I ended up painting a lot in the middle of the night since I was up for the feedings and changing already. The windows for painting were very small that first month, but after a week of sneaking in short painting sessions, Fog River is what I now present. I enjoy the occassional landscape as it's a nice reprieve from the minutia of portrait and figure painting. If you would like to purchase the original or a reproduction then please visit my store.
Up next….it's our time down here!