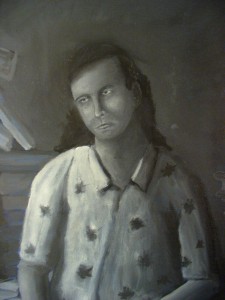 You learn a lot about subjects just by observing them. This is certainly true in painting and it is true about web design. While I was happy to get my website finally online last October, I knew when I put it online that it would require some maintenance and some creativity. With the exception of an annoying Internet Explore bug, don't view my site in Internet Explorer, the site meets my minimum functional requirements: display the gallery, options to purchase works, and view my blog entries. While I will resolve the Explorer problem soon, I have turned my attention to the aesthetics of my website.

This past Christmas my wife gifted me a Bamboo Pen & Touch system. With this device I can sketch on my computer with a control level near that of a real pencil. I intend on using this pen for digital sketches and maybe even a full digital painting. However, for the moment, I plan on improving the look of my site with this pen. One thing I find when I view other websites is the clever use of color schemes, efficient layout of imagery, and the ease of navigation. I have gathered many ideas while surfing the web (does anyone still use that phrase?) and I'm now in the design stages of the next version of my site.

First, I plan on incorporating many videos into my site and thus I need a well laid out video page. When complete, you will be able to quickly select a video from my site as each video will have a brief description of the contents. I am also debating whether to trim the frame element from my existing video "My Bonny" because I think that as more videos are added to the page the extra graphics could look garish. Second, the image gallery is in need of some work. I have been teaching myself Flash and this gallery represents my first complete project in it. I would like to add a feature where the user can click on a painting and get an expanded or close-up view of that painting – right now the experience is limited to the size of your browser. Because there is no substitute for walking into a gallery and viewing actual paintings up close, the virtual gallery must be more flexible. Finally, the site is drenched in black with a green accent. This will probably change because I want to make the site warm and inviting to my viewers. The new color scheme is a work in progress.

As for the easel, the pirates painting is progressing as expected. I've been having some issues with rendering a likeness of a character, but other than that the work is progressing as normal; I'm targeting completion by mid February. I have already begun planning for the next painting which you will see more of in the coming posts. Until then…..paint on!