On this Memorial Day I think it's important to take a moment to recognize what it means to honor our soldiers. What exactly does it mean to remember our soldiers? Is it waving an American flag? Is this shaking the hand of a veteran? Is it singing our national anthem? Is it having a family BBQ and sharing funny stories? Well the simple truth is it's all of those things. When you stop to think about why our fallen soldiers were willing to sacrifice everything; you realize that they wanted the American way of life to continue as it has for the last 200 plus years. That means visiting families, going to ball games, thanking your neighborhood veterans, saying a prayer for the fallen, and whatever else you plan to do on this day of remembrance. Just the simple fact that we have this day to relax and enjoy ourselves is a tribute to the troops because that's what they were fighting for – the American lifestyle lives on.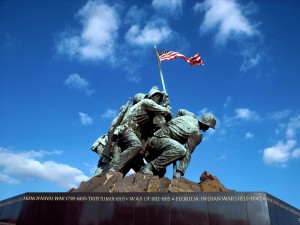 So if you can, thank a veteran and take a moment to remember those who have fallen. Then go out and enjoy your day. How did I remember those heroes on my memorial day? Well I got up and took my painting equipment outside to work on the Holiday/Joker painting (quickly becoming the most challenging work of my career thus far). The weather was so nice here, sunny and mild, and I figured that if I got out of the house and tackled the painting in the sun light that I might have a new perspective on the painting and improve the quality of the overall work. After a couple of hours, I made some progress on the Holiday portion of the painting and felt a bit more optimistic about the outlook of the work. I painted for about 15 minute intervals and then stood back and repeated this cycle for the session. Having more room to look at the painting really helped me see what needed adjustment and so, as long as the weather isn't too hot, I plan to paint outdoors more often.After the painting, I went inside and watched my Giants defeat the Diamondbacks on television. Baseball is the absolute best sport for me. I love it, I play it on the weekends, and I think about it all the time.
You might have noticed that there hasn't been much activity on my blog or YouTube channel this past month. Well I have a valid excuse: I started a new job this month. My mind has been on that so I have been away from the canvas for a bit, but my mind is turning back to painting because I am hoping to get the Joker/Holiday painting done in time for the next art show in July. So expect to see more in the very near future.
I hope you enjoyed your Memorial Day like I enjoyed mine. Thank you to our troops both past and present. God bless America.