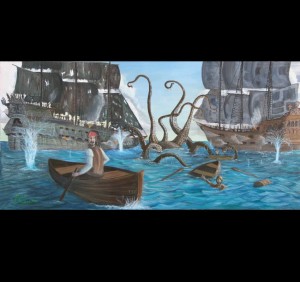 Guns, swords, cannon fire, sea monsters, crashing waves, and cutthroat pirates; a pirate's life for me! Captain Sparrow is honoring that most timeless of pirate rituals – live to steal another day. With a ship full of dead pirates fighting another ship of deceptive pirates and a sea monster named the Kraken in the middle, this is no place for a respectable thief. Take all you can and give nothing back, but first – get the hell out of there!
My first completed painting of 2011 is here! You have heard me talking about a pirate-themed painting for months and now I proudly present "A Sparrow Takes Flight." This is a 24''x48'' oil on canvas project. Anyone who knows me knows that I love pirate stories, history, and cheap souvenirs. So why shouldn't I paint a pirate scene? What better scene than one taken from the Pirates of the Caribbean universe?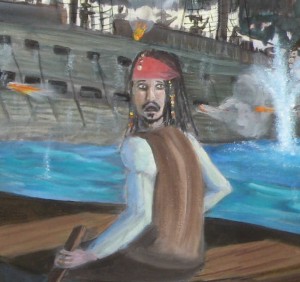 I wanted to represent the best elements from those films. Of course the whole concept starts with the main character – Jack Sparrow. He's a thief and an opportunist and isn't too proud to run from a fight which is what he is doing here. It seems everyone is always after him for a broken promise, ship, or heart. We see Sparrow running from a battle between the Flying Dutchman on the left and the Black Pearl on the right. In the middle is the notorious monster that all pirates fear – the Kraken. With this massive sea conflict unfolding in front of Jack, we can't blame him for running.
I wanted to create a sense of action and danger in this scene. There needed to be movement and tension. My favorite part of this work is the Kraken. What made it come alive for me was the spray of the ocean and the drops of water running off of the tentacles as they climb ever higher into the sky. I am also quite satisfied with the movement and color of the ocean. I used combinations of blacks, blues, and greens to achieve a Caribbean ocean color. Now if you are familiar with my paintings then you might recognize a throwback element to a painting I did in 2007. The pirate who is stranded in the water is actually rendered in the same manner as the Salla character from my Boulder Dash painting. This was simply to tie together my paintings and give the viewer (primarily my Brother) something to laugh at. Obviously Salla does not appear in this film, but on canvas anything is possible.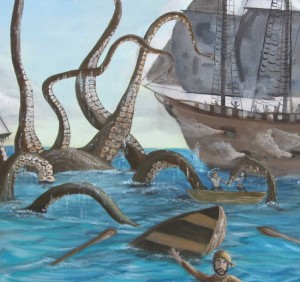 The original is not available but reproductions are. Check my website for prices on canvas and paper reproductions. Also, I recorded my painting sessions for this project and thus a video is in the works. The video will be similar in format to the "My Bonny" video. Look for this on my website in the coming weeks.
This is the 5th movie themed painting I have completed. This is for my Brother who loves a movie scene on canvas. He actually possesses 4 of the 5 paintings as my soon-to-be sister-in-law has the other. So in a few months all 5 paintings will be under the same roof. The movies I tackled previously are (in chronological order) – Star Wars (Defense of Yavin), Indiana Jones & the Raiders of the Lost Ark (Boulder Dash), Jurassic Park (Carnivorous When Wet), Alice in Wonderland (Mad to the Bone), and finally Pirates of the Caribbean (A Sparrow Takes Flight). I find the movie paintings to be a challenge, but it is fun to re-imagine my version of the films.
So what's next? A landscape painting is coming and I plan on making this one a short and sweet project. I hope to complete it within 2 weeks. This last painting was about a month's worth of work – not including the planning stages. So I need something to flush my mind and get the tension out. I'll be doing a painting of a local park I frequently walk my dog to. There will be more on this in the next session. Until then…
Paint all you can……hold nothing back!