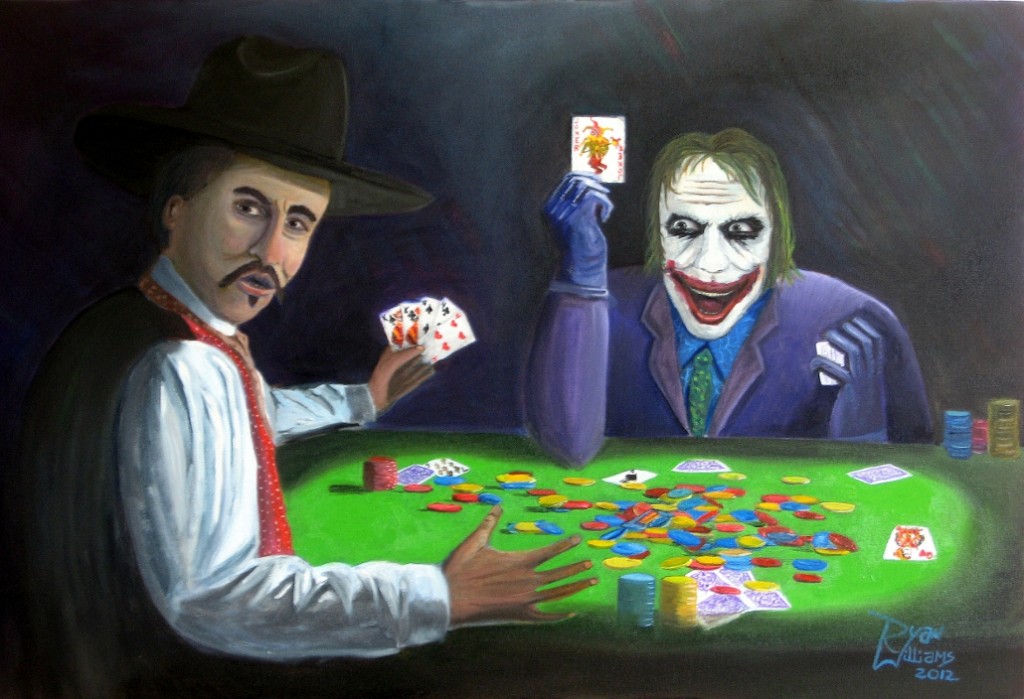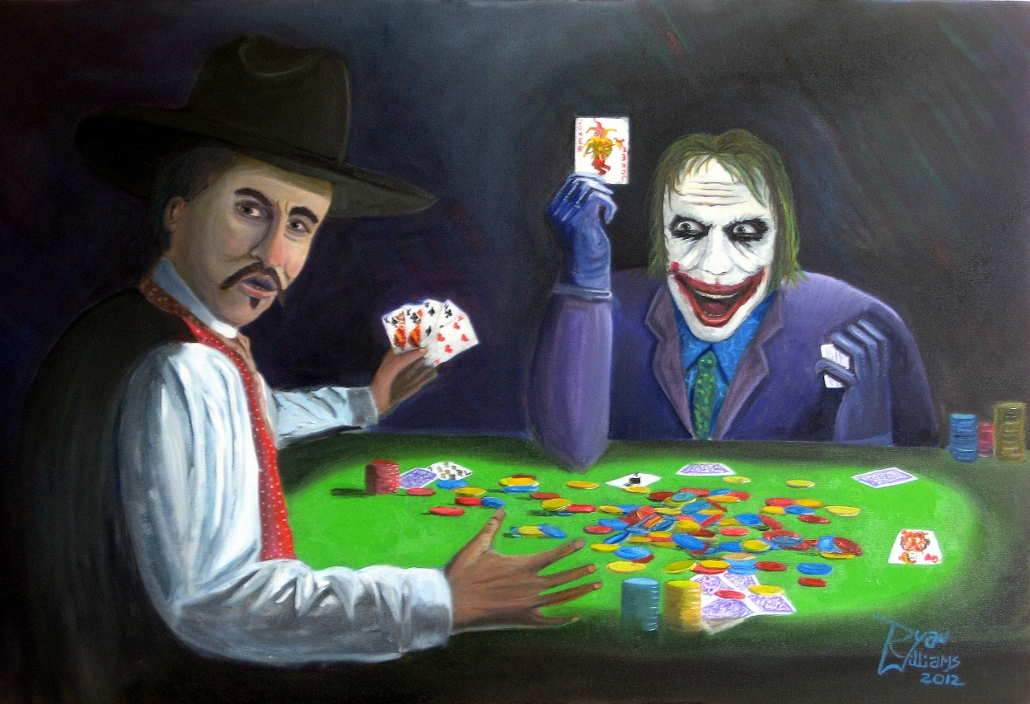 Well here it is! It only took a year of on and off frustration. Geez. For me to complete this piece, after having banged my head against a wall many a night, tells me that I have even more persistence (or stubbornness) than I thought. Enough of the self-loathing – let's look at this fine new painting.
"Joker on Holliday" is a 24"x36" oil on canvas. This is the third painting in a row to be of those dimensions and that's not by accident. I have really enjoyed that size as I think it is just large enough to display some details without overwhelming a viewer. With that said, I think I'm going small for the next few projects (gotta conserve space in the home). The painting is telling a straight forward story: Doc Holliday and the Joker are playing 5-card draw poker and Joker appears to be the dealer. Doc has a full house and is excited about winning the large pot on the table. Joker, on the other hand, is more interested in playing jokes and goofing off. Holliday's expression says it all. He wants out of this game and out of this painting. Of course with all of that money on the table, and being a card shark, he is inclined to stick it out.
The original concept held true for the most part here. I wanted the two characters at a table and I wanted Doc to be looking at the viewer seemingly asking for an explanation. There were a few small changes from the original idea however. Those changes revolve around the supporting props. Originally I wanted Doc to be holding a revolver in this right hand and I wanted one of Joker's knifes stuck into the table. I decided late into the project that it would leave the painting looking a little too dark or aggressive. As it is, I figure this piece approaches that fine line of light comedy and dark comedy; I wanted to keep this closer to the family-friendly comedy genre. Other than that, there were no major adjustments to the piece. The colors are what I expected and what I hoped for. My favorite parts? I like the purple of the Joker's coat as a great contrast to the lit-up green felt poker table. I also love the playing cards in Doc's hand as they lend themselves to a bit of reality while navigating a field of ridiculousness.
I can see parts of my personality in this work. Viewing this piece, it makes me think this is what's going through my head at times. There are situations when you need to be focused and down to earth. Then there are those times when I just want to let loose and be a goof. Am I the only one who feels like this? Do you have those same emotions and thoughts as I do? Which one are you most like? Doc? Joker? I'm somewhere in between. I guess that makes me the poker chips?
Interested in seeing the process of how this painting was made? Wanna know more of my thoughts on this work? No? Well screw you then…..for the rest of you lovely folks you can check out my channel on youTube to catch episode 6 of Brushes & Bytes Video Blog. Watch Here!
The original will be for sale along with reproductions on canvas and paper. Personally I think this would look great in a kids room. I mean what child wouldn't feel safe at night knowing the Joker is looking over them? Sure nightmares are a potential side-effect, but a good painting leaves you thinking about it after viewing. If you want to make the kids feel safer then give them a night light. How about a black light on the painting? That should calm their nerves.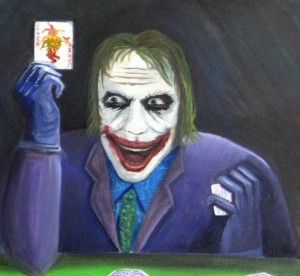 Hey they may even learn valuable life lessons about poker! Then they grow-up to become professional poker players who bring in the big bucks and give you an easy retirement! All of this from a painting – sounds like a deal to me!