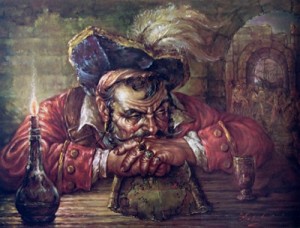 Who doesn't love the stories of pirates? Thanks to the Disney folks, we all have a rose-colored vision of what piracy really was like in the 16th, 17th, and 18th centuries. The truth is that most pirates died after about 7 years on the sea while on the run. The most common cause of death was disease. Where did the disease come from? Well if you sleep in your own filth, while crammed together with dozens of other diseased men, you will soon find an early exit to your miserable life. What about food? Well often there was none and so cannibalism reared its ugly head. Yes to be a pirate in reality was a horrible life. So let's stay with the romanticized fantasy shall we?
Pirate history has always appealed to me because I love the idea of complete freedom. You can sail for adventure anywhere at anytime and meet anyone. I also enjoy pirate-themed art and while there are not many artists who voyage into this genre, I do have a personal favorite that I wanted to make you aware of. His name is Donald Maitz and I find his work to be humorous and enchanting. On a technical level, Maitz is able to balance reality with a slight touch of the cartoonist. His characters are full of emotion and energy and you cannot help but stare at a face and start to feel a little bit of the drama or comedy coming out of the scene. The paintings are great story tellers and they follow that old saying about a picture being worth a thousand words. In his larger works the picture is more like one hundred thousand words. I love a narrative painting and Maitz is a talent with bringing comedy and action into his works. Most of you, though you may not have known his name, have seen at least one of his works. Maitz painted the famous portrait of Captain Henry Morgan which was adopted by the Morgan Rum company for the label on the bottle. "Got a little captain in ya?"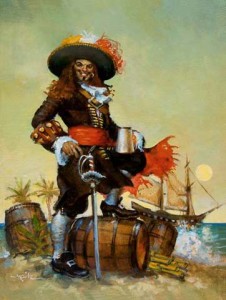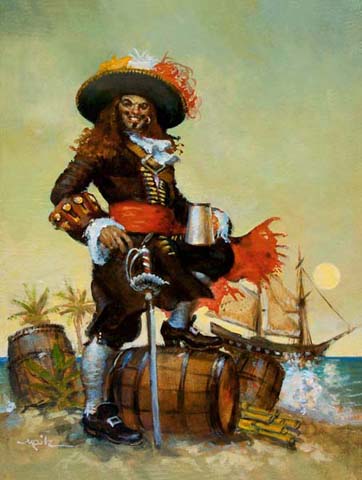 Maitz has influenced me in the last few years. I have found that I too want to venture into narrative works. Stories are great on canvas and you can return to a painting many times and find something new that you may not have noticed earlier. In this way, the story continues to be told in increments which keeps the viewer interested. A still-life or landscape can be admired for its color and content, but weeks later can you accurately recall the position of the trees and mountains in your head? On the other hand, if you saw a painting of some characters interacting, chances are you could recall the position and expression of the characters because the painting is telling you a story. As the viewers, we are more likely to recall a painting's story when there are people involved because we are social creatures and we relate to faces and social events. While you view a narrative painting, you are painting your own version in your mind – just like when you read a book. Most of Maitz's paintings give me that mental paint brush. I love art that creates an emotional reaction when viewed and my reaction when I look at Maitz work is one of excitement and desire. I don't necessarily desire to be a pirate, I'm just exited at the possibility of the freedom and I hope to experience that kind of freedom someday.
For more information on Donald Maitz, visit Donald Maitz Website
Now all this pirate talk has me motivated to start a new pirate project – stay tuned.