Happy New Year to everyone! I hope everyone had an enjoyable holiday season. I certainly did as I was able to visit family and friends over the last 2 weeks. One of my favorite things about the holidays is reminiscing over old stories of the silly things you did when you were younger. I got a few laughs out this holiday season and I hope you did as well.
With all of the visiting I was doing, I took time away from the easel. With the year closing, I looked back at my goal from New Years 2010 and realized I did not even come close to my goal of completing 12 paintings during the year. I managed 6 paintings though and that is still better then in recent years when I was only completing 4 or 5. My favorite painting of 2010 is easily "An Early Memory." I love that work so much because I spent many hours glazing the bear to get the soft fur look of the teddy bear. I also think the warm light helped to convey a sense of affection in the scene.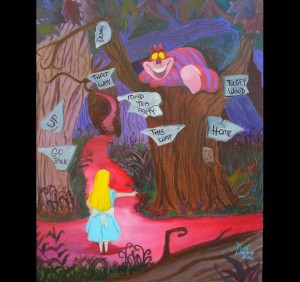 My 6th painting you have not seen until now. That's because it was a Christmas gift for my Sister-in-law and I didn't want her to see it before then. She loves the Cheshire cat from the "Alice in Wonderland" story and so I decided on a scene that focuses on the cat and his "mad" guidance. In the scene, Alice is wandering through Tulgey Wood and is about to breakdown in tears of frustration when the Cheshire cat appears and offers some suggestions. Unfortunately for Alice, there is no clear path home and she will have to encounter even more mad characters before she escapes. The signs tease her about this way and that way and even a path home, but she is utterly lost because ultimately, "all ways are the Queen's ways."
The color scheme was made to emulate the Disney version of the story as is the cat himself. I did embellish the size of the cat though to give it more prominence in the painting. I wanted to capture the soft light in the distance of the paths to create a strong spatial relationship between the forest and the figures. Alice has her back to us to remind us that the focus is the cat and not her. You will notice on the main tree where the cat sits is a carving. The carving reads: "CW + NT" which is a reference to my Sister-in-law's and my Brother's upcoming wedding this year (Congratulations guys!). The original is not available but this painting is available as a reproduction on canvas and paper.
As the New Year begins, I have hopes of completing more paintings this year than last. I set a goal of 12 last year. I realize this just won't happen this year as I am planning a move in the summer. So my time is limited to work on new projects. Still, I am setting a lofty goal of 8 paintings to complete this year. What do my plans include? My top priority is to complete a Disneyland painting I started in 2005. I simply lost my confidence in the layout when I started and decided to put it on the shelf for a while. I think I can rectify the problems with it if I change my approach so I am going to give it another shot. Also in the works is another movie-inspired painting – this one will be from Pirates of the Caribbean. I will also be tackling another landscape or two, a still life, and perhaps a portrait of a loved one. For the rest of the works you will have to keep checking my blog.
I would like to thank those people who purchased works of my art in 2010 including Brian Lacey, Tracy Cook, and Bob Weston. I thank you for supporting my art and I hope my works bring you enjoyment throughout the years.
Have a great and inspired 2011!