Sometimes the hardest part about solving a problem is getting started. Where does this problem come from? Perhaps we see the problem and only think about the multitude of hurdles that could impede us as we work to completion. Perhaps we worry that we'll invest laborious hours and heavy emotion into a project only to find us left wanting in the end. Or perhaps we are simply trying to put the horse before the cart – we have no attack plan. I've experienced all of these problems in painting and in other aspects of my life. I've learned through my failures that a good plan is required to solve any complex problem. No architect lays concrete or erects beams of steel before drafting a blue print. The same principles apply to the artist. For any subject with multiple characters or objects, we must conceive of the compositional sketch before we touch the canvas.


When I started painting in oils back in 2005, I never really sketched out my ideas. I simply had a vague idea about a scene I wanted to render and I went about doing it on canvas. In my mind, I was never going to make a mistake and my imagination was going to transfer to the canvas perfectly. Then I learned that what you expect to happen often doesn't. I made many mistakes as I painted – both in form and composition. The results were paintings that disappointed me so much that I have them laying in a dark closet to only see the light of day when I need a harsh reminder about the dangers of impatience. Six years later, I sketch my ideas for days if not weeks before I even look at the canvas.
I think the best choice I've ever made in my little art career is carrying a sketch book. This book keeps everything from 60 second doodles to full pencil renderings of projects I want to pursue. Thanks to my wife, I now have two avenues with which to create my preliminary sketches. I was gifted a digital pen and pad so that I can now render simple sketches or full color digital paintings on the computer. Nothing can replace the pencil and paper, but this digital pen can do some great things. For example, I can draw a quick sketch, select a few colors for the sketch, and then move around the elements just to get a rough idea on what might work in the painting. I can also simulate oil painting in my sketches by clicking the mouse and changing from pencil mark to brush stroke. I admit that this system does take some getting used to. I've been training my eye to not look at my hand and focus instead on the screen. I'm practicing almost everyday so I'm making progress. I've completed some sketches of multiple projects that I plan on completing this year and I want to share with you the project I'm working on now.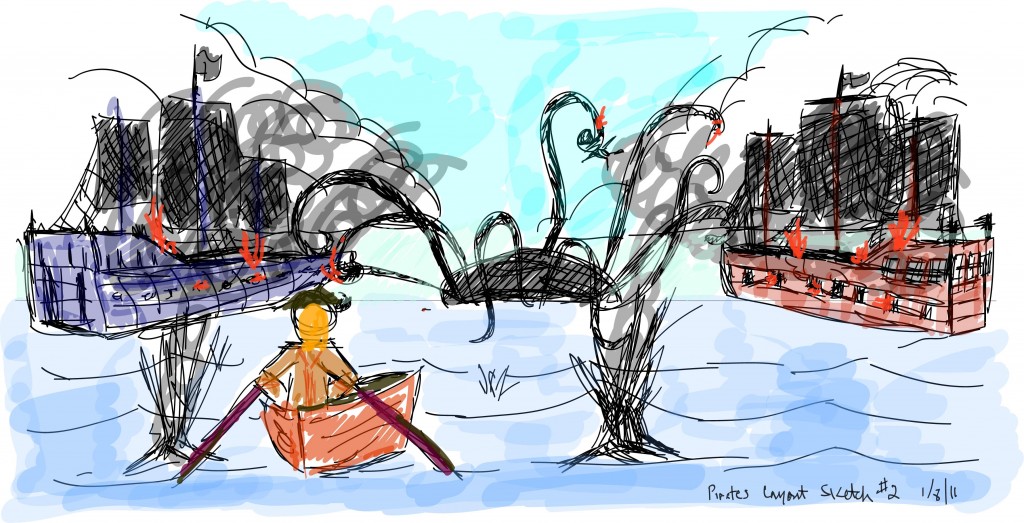 Based on the Pirates of the Caribbean films, this painting will depict pirate ships, a sea monster, and some familiar characters. With all of these elements in mind, I simply couldn't jump on the canvas and try to sort it out as I went – the results would be a mess. So I've been sketching on paper and on the computer. You notice in this sketch that it's a compositional sketch only. This means there are no details, no faces, no waves, no boards, and no puffs of clouds. This sketch is only to get the layout of the main elements – pirate, ships, and the monster. I then plunked in a few basic colors to get a quick idea of the color scheme. I've since settled more or less on this layout and so I printed this out as a reference for the duration of the work. The sketch is to scale so I can place markers on the actual canvas of where the subjects will be. I love this pen and pad. The product is the Bamboo Pen & Touch if you are interested in purchasing it. It only retails for about $100 so it is certainly affordable. You can expect to see more of these digital sketches on my blog and my website. Remember that preparation is crucial to the problem-solving process. This applies to every aspect of life and not just art – think before you leap and sketch before you paint.
In other news, I've just created a YouTube account and will start posting small videos of my painting projects for everyone to see. Anything on this channel will also reside on my website. I'll have more information on this in the near future.
In my next posting, I'll be talking about one of my favorite artists. Stay tuned and subscribe! Thanks!